Students of the Faculty of Mechanical Engineering have the opportunity to participate in various student projects, as well as in faculty projects solved in cooperation with practice, and gain valuable practical experience in design, construction and production, meet important experts from practice, but also find new friends and get a hill of unique experiences.
Eco Racing Team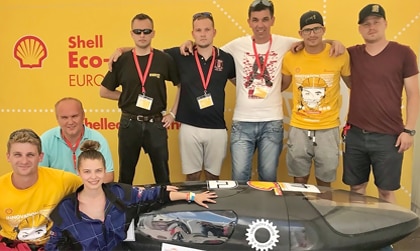 The Shell Eco-marathon is an international competition focused on special vehicles with extremely low fuel consumption. The Faculty of Mechanical Engineering TUKE has been participating in this competition for more than 25 years. In said time, our students designed and built 8 racing cars. The development of each of them presented a great challenge. In order for 7the vehicle to travel as far as possible with a single litre of fuel, it must have a low aerodynamic and rolling resistance, low weight and at the same time meet strict safety requirements. In the last year, our team managed to drive 824.84 km on 1 litre of fuel, which is not only our personal, but also an absolute Slovak record.
Pneumobile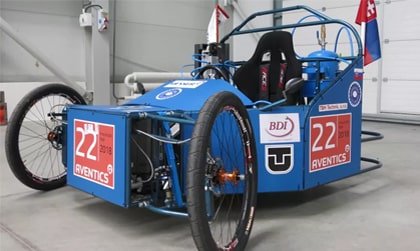 Since 2008, pneumatic car races have been held in the Hungarian town of Eger. This is a prestigious competition organized by Emerson, a supplier of AVENTICS pneumatic components. Teams of technical universities from all over Europe are taking part in the competition. The task of the competitors is to build a vehicle powered by compressed air that will meet strict technical and safety requirements. There are several categories to compete in. With our last Pneumobile we travelled 3.2 km and reached a maximum of 38 km/h. Due to the great interest of students, there are currently two competing teams at the faculty.
The Škoda-Wheel Project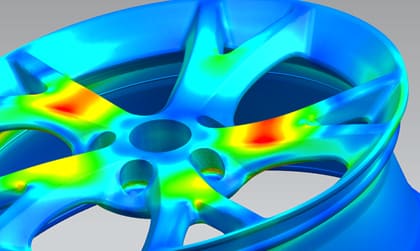 The Škoda-Wheel, a student project commissioned by the Škoda-Auto development centre is one of the positive impulses to start your career in the automotive world. Thanks to the long-term cooperation of the FME with the Škoda-Auto carmaker, we offer our students a space for the creative development of their engineering potential. As part of the project, students go through all phases of aluminium wheel development, from the first sketch, through the CAD model, to the FEM calculation. In addition to professional workshops and meetings with experts in technical development, students have the opportunity to participate in a summer internship in Mladá Boleslav and obtain a topic for their thesis.